A beautiful landscape comprises of so many different aspects, from healthy trees and shrubs to a lush manicured lawn, to weed-free mulched beds with crisp edges.
We feel the best way to enhance and maintain a beautiful landscape is to have one contractor address all of the variables and take ownership in the landscape, not just the individual tasks.  We feel our years of experience, continued education, and commitment to excellence makes us the best source to maintain your entire landscape with one contract.
Our clients are discriminating homeowners who place the care of their properties in our capable hands.  From spring clean-up to snow removal, we offer a full package of maintenance services, including: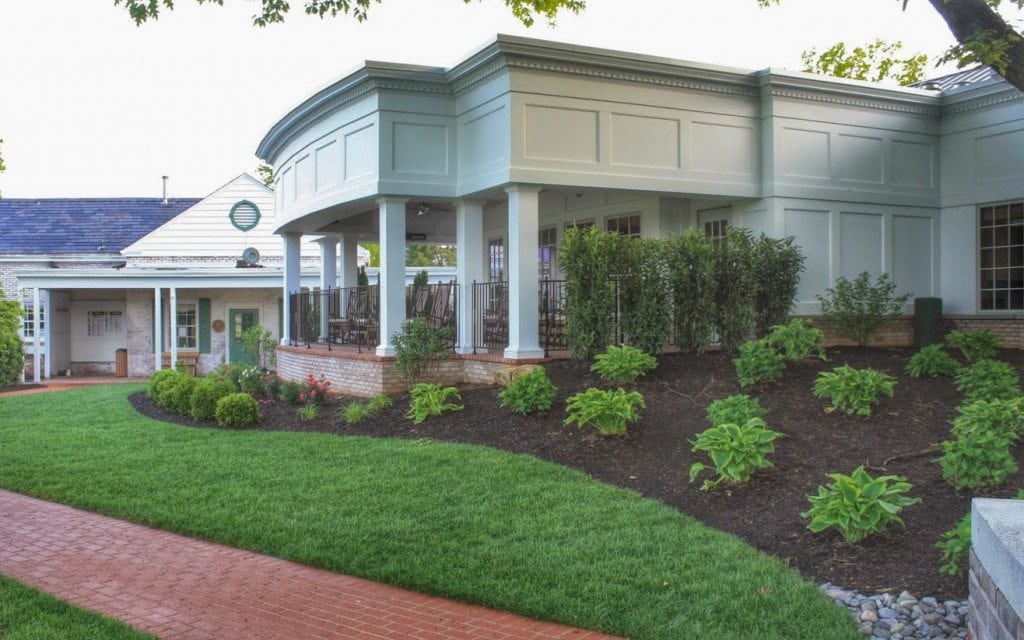 Weekly Maintenance
Still Waters provides weekly maintenance visits that consist of :
Lawn mowing
Edging of beds, walks, curbs, etc.
Removal of clippings and debris
Removal of weeds from plant beds and paved areas
Monitoring of shrubs and trees to ensure optimum health
Lawn Care
Still Waters is unique, in that, we take the time to design agronomic lawn care programs.  We start with sound, cultural practices, including proper mowing, core aeration and periodic soil testing.  We take a minimalistic chemical approach, believing that if we keep the lawn healthy, fewer chemicals will be necessary.  Our personnel are trained to detect any pest problems early and remedy the situation quickly.
Spring Cleanups
Spring cleanups are generally performed in April or May and include the following:
Removal of seasonal debris (leaves, twigs, etc.)
Edging of all plant beds
Turning existing mulch
Applying granular weed pre-emergent
Fertilizing the flowering shrubs
Applying new triple ground hardwood bark mulch*
*Hardwood bark mulches are widely regarded as the beast type of mulch to be used for your planting beds.  The dyed products that have gained popularity recently actually possess many detrimental characteristics and lack some of the beneficial qualities of bark mulch.
Summer Bed Maintenance
Summer bed maintenance is generally performed in June or July and includes the following:
Pruning/shaping shrubs as necessary
Turning mulch to restore dark color
Applying granular weed pre-emergent
Leaf Cleanup
Leaf cleanup typically lasts from mid-October through early December.  Leaves are removed from the lawn areas during routine mowing visits.  When all leaves have fallen, a final thorough cleaning of bed and lawn areas is done.  Still Waters typically hauls the leaves away from your site with our large vacuum units.
Snow Removal
Still Waters provides complete snow removal / de-icing services to all our full service maintenance customers.  We let you enjoy the snow while we take the hassle out of cleaning up after it!
Annual Flowerscaping
Annual flowers are one of the best ways to give your landscape that added pop of color.  Let the experts at Still Waters design a custom annual planting plan that will make your house the envy of the neighborhood.
Pond Maintenance
Properly maintained ponds and water features can add outstanding visual and audible enjoyment to your landscape, but can quickly turn to an eyesore with algae and leaf litter buildup.  Our pond maintenance programs include a yearly cleaning and flushing of the entire system that keeps everything running smooth and clean.
Low Voltage Lighting Maintenance
Our lighting Maintenance program includes regular checks of bulbs and alignment of your low voltage landscape lighting.  This takes the hassle out of the upkeep of your lighting system and allows you to be confident your landscape will look great day or night!
Irrigation System Maintenance
Our irrigation system maintenance program is designed to keep your irrigation system running smoothly year round.  It includes a visit in the spring to open the system and makes sure it's running properly and a visit in the fall to blow the water out of the lines and shut it down for the winter.
We maintain relationships with a variety of professionals in other trades as well, such as arborists, plumbers, electricians, painters, and general contractors, so when you encounter a situation beyond our scope of expertise we can often offer you assistance in those areas as well.